Designed to enhance your presence in the apparel and footwear industry.
An interactive space to augment your Materials Show experience with a digital profile featuring your company's best assets.
Your presence in the Digital Directory is free while in beta. This means that for the upcoming shows, visitors will be able to find and contact you with ease. As the platform develops, we will introduce subscription services to be packaged with your exhibition at The Materials Show
Showcase Your Business Like Never Before
1. Interactive Profiles: Like Linkedin, but integrated. Dedicated. Upload captivating photos, add your social media links, and add tags to help designers, developers, engineers, buyers, etc, find you.
2. Advanced Filters: Filling out your profile helps Industry Leading Brands. Our advanced filter feature allows visitors to sort exhibitors by company name, profile, tags, and product categories.
3. Connect with Visitors Anywhere: Seamless integration with our show registration allows visitors to connect with exhibitors at the show or across the world using our meeting request builder(in addition to social media and contact information)

Transform Your Profile
A compelling profile can be the key to unlocking new business opportunities. Watch our walkthrough video to learn how to edit your profile and make it stand out.
Upload captivating photos of your products and services
Add your social media links to increase your digital footprint
Use 'tags' to make your company more discoverable
Craft a compelling company profile that tells your story
Before And After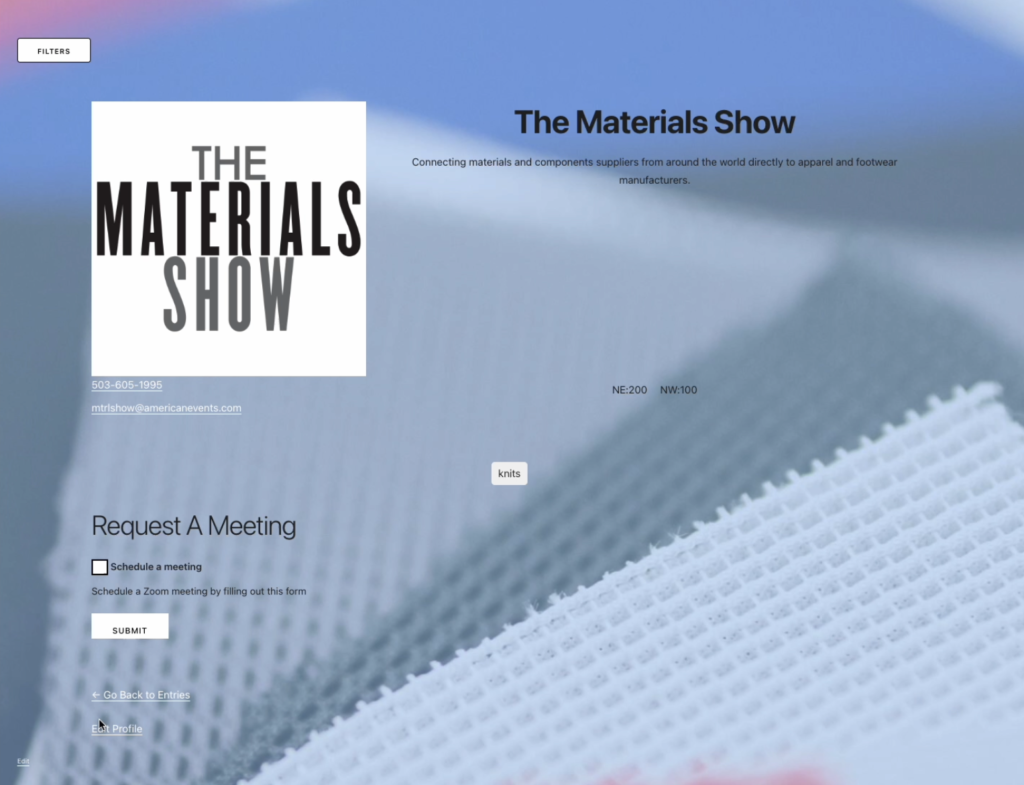 Elevate your exhibitor experience and start creating meaningful connections. Your journey to the forefront of the apparel and footwear industry begins here.